ПРОИЗВОДИТЕЛИ
Biasi
Италия
Biasi World
From small producer of domestic and industrial boilers, today BIASI is a significant European reality in the heating field. We have diversified our production and we are able to offer: cast-iron, aluminium, tubular steel multicolumn and steel panel high efficiency convector radiators in addition to cast-iron boiler bodies, wall-mounted boilers and complete cast-iron boilers. Each product of the Biasi range is fully managed and produced in our modern production facilities:
Based in Verona for:
Cast-iron production (radiators and EN GJL200 cast-iron bodies);
Aluminium production (radiators);
Our range of cast-iron boilers;
In Pordenone for our range of wall-mounted boilers;
In Colonnella (TE) for the production of steel radiators.
Cast-iron radiators and bodies for boilers
This product had a significant impact on Biasi's history and image. Top quality finishing, efficient control, safety, outstanding durability and reliability are the typical features of heating bodies' ideal for top quality buildings. Production commenced in 1958 with the casting of heating units, an activity that soon became one of the most important fields of business for the company. Through substantial investment, in 1990 the flexibility of the manufacturing lines was upgraded in order to facilitate greater diversification of production.
Not only are cast-iron radiators produced in the Group's foundry but so to are all the cast-iron parts of the boiler body.
It is one of the leading foundries in Europe:
Production capacity: 22 tons per hour;
Two automatic carousel die lines;
Two-level superelevation where castings are cooled;
A complete division for core production;
35 ton capacity electrical furnace for temperature stabilisation;
Two automatic feed furnaces;
Product quality is certified by the Technology and Quality Service and TUV approved chemical-technological laboratory for process control in compliance with UNI EN ISO 9001:2000.
Aluminium Radiators
Also in Verona, near the Cast-Iron Plant, there is the modern plant for the production of aluminium radiators. This superior facility is equipped with automated die-casting lines and fitted with 1500-ton power presses. Automated production and assembly lines perform accurate sealing and quality is assured through rigorous water testing and finishing inspections on the entire production. The painting cycle is one of the most crucial cycles for product quality. Pre-treatments and anaphoresis paint protect all parts and guarantee long-lasting products. Powder-painting, which is carefully performed, creates a perfectly shiny and homogeneous surface with an enamel-like effect. Total production capacity (more than 4 million sections) and quality standards make the Biasi Group one of the leaders in this sector, too.
Tubular Steel Multicolumn Radiators
Our product range is further augmented through the superb Tubolaser radiators, which are produced in our plant in Colonnella, where around 1.400.000 sections are manufactured each year. Here is a range of radiators that not only sets new standards in manufacturing excellence and performance but also is capable of actually enhancing the design process by virtue of appearance and versatility. Biasi Tubular Steel Radiators are little short of individual works of art. These are radiators so attractive that they can become, effectively, integral elements within the whole interior design process, even driving that creative process. The beauty of these radiators comes form the fact that they are manufactured using laser welding, the only technology that guarantees maximum precision, absolute cleanliness and a perfectly smooth finish without a trace of a weld joint in the finished product.
Steel Panel Radiators
They are the combination of therodynamic research into output optimisation and the reduction of processing costs. The result is an heating unit that complies with the strictest European safety and quality regulations (Products are TUV approved in compliance with UNI EN ISO 9001:2000) and that is produced in highly automated plants using specialised production lines.
Boilers for domestic use
From cast-iron bodies to wall-hung boilers for heating or domestic hot water production. Production started in 1986 and it immediately earned a reputation in Italy and worldwide for its leading-edge technology, quality materials, automation, precision tests, and extensive and reliable service network. Its development continues: the technical design and industrial facility located in the modern Pordenone plant has been certified to ISO 9001:2000. Through the acquisition of the ENI plant, the Biasi Group obtained the support of an important planning, production and marketing activity in the field of gas-fired boilers. The plant in Pordenone produces more than 150,000 boilers per year supplying national and international markets according to the most restrictive rules: strict planning, and rigorous quality control. These experiences enable us to produce an extensive range of boilers that have excellent reliability and can suit any installation need. To complete the range of domestic heating, the smoke tube steel boilers are the flagship of Biasi tradition. Several versions with an extensive output range, from 105 kW, have been produced to satisfy every need: from small homes to large industrial sites. Production of these units is undertaken at Fondver in Verona.
For more informations please write to: info@biasi.it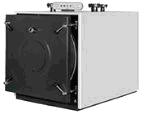 ---